Dublin Pubs - Where to Spend Your Time on NYE

Dublin has some fantastic bars and nightclubs, but there's nothing more famous than its pubs. The Irish Pub has been done across the world, but there's nothing like the real thing.
On this page we're going to tell you all about the best pubs in the city, including the likes of Black Door Dublin and Sophie's Rooftop, both of which hold huge New Year's Eve parties. They are also great places for Chinese New Year. We will tell you everything you need to know, and then it's up to you to decide where to spend the big night.
The places recommend by NYEDublin.ie not only have stellar reputations, but we've tried and tested them ourselves too. The world of Dublin pubs is competitive, but these establishments should be your go-to spots.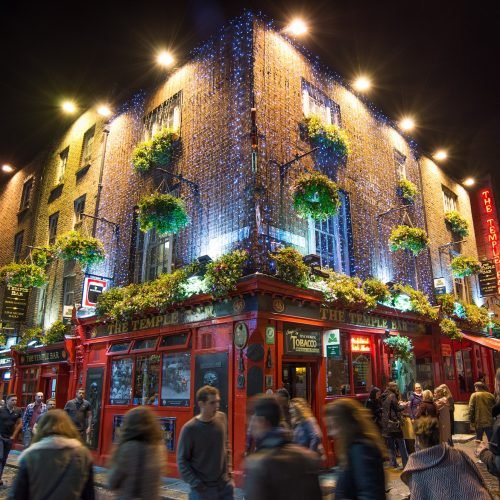 Sophie's Rooftop Bar and Terrace is located close to Iveagh Gardens, a great area of Dublin. The place enjoys beautiful panoramic views over the city, and although beautiful in the day, it is spectacular by night. The bar has an exclusive vibe but with reasonable prices, so is very popular amongst people with all budget sizes.
The place is transformed during New Year's Eve, where the rooftop bar becomes one of the best places to be in the whole city. The theme of the party changes year-on-year, but the reception and enjoyment doesn't, You can expect arrival drinks, a great DJ, a well-stocked bar and a memorable countdown to midnight. Previous prices for a ticket have ranged between 20 and 30 euros, but this is subject to change. Located very close to Sophie's Rooftop is the The Black Door Dublin. The Black Door is best known for it's Georgian theme with a modern twist, as it has a real touch of class that separates it from the typical Irish pub, Previous New Year's Eve events held here include themes like The Great Gatsby, which is perfectly fitting for its unique décor. Specialising in cocktails, you're guaranteed a fantastic drink or two in the bar, with plenty of offers available.
The Black Door attracts a crowd that prefers a more chilled environment than some other busy and bustling bars in the city. It's one of the most difficult places to get a spot for on New Year's Eve, so you will need to book early to avoid any disappointment. The River Bar is an ultra-modern sports joint located at the iconic O'Connell Bridge. It's name comes from the fact that it is adjacent to the beautiful River Liffy, a popular spot in the city of Dublin. On an average night, you can watch the football and have drinks with friends, but on New Year's Eve, the place transforms into something entirely different. Think neon lights, balloons, great cocktails, and much more.
The River Bar is one of the most popular Dublin pubs on any given day, so it is no wonder why people also want to spend their New Year's Eve celebrating there. These are just 3 fantastic options of all that is on offer in Dublin during the NYE period, and you will be seriously spoiled for choice.